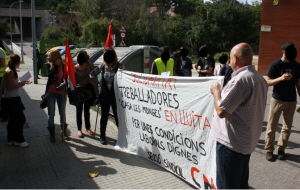 The company removed the sanctions on CNT workers, after almost two months of intermittent indefinite strike. On Thursday, November 29 the residence management finally met with the strike committee of CNT. The following points were agreed at the meeting:
The company made a commitment not to lower the salaries of the workers, at least for now.
They will pay the Christmas bonus to workers, on a prorated basis until the Government pays the debts to the company.
The management is committed to dealing with the issues of workers health and safety and will continue to meet regularly.
We are pleased that the company and the workers have reached an agreement directly and without intermediaries.
The union, with this good perspective, has stopped the strike and appreciates the outpouring of support received.
CNT Union « Les Monges »
(More information on this conflict can be found in the IWA External Bulletin no. 3)